Brand Protection Technology
to Authenticate Your Products

Brand protection owners can select from a suite of diverse applications and technologies designed to offer product and packaging security features to protect high value brands and the consumer's health.
Overt: Visible to the naked eye, allowing consumers, inspectors and government agencies to easily identify the authenticity of the package.
Covert: Utilize a security marker invisible to the naked eye, often printed with security inks on primary and/or secondary packaging. These security inks can only be detected using a device.
Forensic: Lab equipment required to authenticate forensic markers. The use of forensic markers allows companies to pursue legal actions against counterfeiters, conduct private investigations, and cooperate with law enforcement agencies.
Focused on preventing unauthorized products from being placed on the market, our team understands manufacturing cycles and will work with you to design a custom authentication solution leveraging security inks, applications and printing methods to help with your anti-counterfeiting needs.
Packaging Substrates: Authentix has designed our security features to work on many different types of packaging substrates, such as paper, glass, plastic metal blister foil, lidding foil folding cartons, and vial ferrules to offer multiple levels of brand protection making it more difficult for counterfeiters to copy. The benefits of our security inks on packaging consists of flexible integration, compatible with all printing methods, integrated with OVD and field authentication.
Applications: Incorporate multi-level protection in labels, closures, tear tapes, shrink sleeves, and Tamper Evident features such as "VOID", and holographic authentication. Our security features capabilities are detectable through plastic / cartons, supply chain optimized, and field authenticated.
Finishes: Incorporating various levels of security features within different types of finishes offers an extra level of security in providing ease of authentication and tamper-proof functions. These finishes are easy to print on and are compatible with all printing technologies (flexography, offset, inkjet, thermal transfer, etc.), We can work with laminates, adhesives, die cuts, emboss, and more.
Digital Authentication: Using any smartphone model, authenticate products with our unique physical product tag. Gain visibility to product origin, geo-location, and other supply chain related activities. This data is collected and aggregated into our secure database providing actionable insights via customized reports.
HVX Handheld Detector: Commercial organizations can quickly, efficiently and affordably authenticate products that are believed to be counterfeit, diverted or adulterated. With a simple yes / no verification of product status in the field or during quality checks at the manufacturers, this secure approach is an advanced customized authentication solution that helps mitigate risks to promote revenue growth and gain competitive advantage.
Learn more about the industries we serve:
---
---
Security Excellence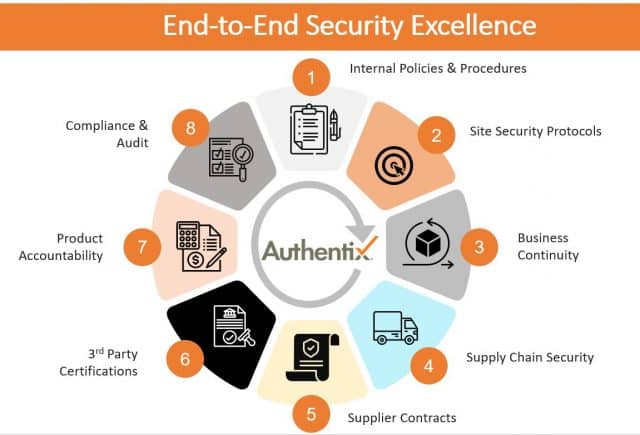 Authentix provides end-to-end brand protection security programs to ensure that products, packaging and information are protected at each stage of the supply chain. We also maintain several quality and security certifications and accreditations for the management and competence in laboratory tests, audit processes and procedures and high-security printing.