Governance
Customers who are looking to disrupt corruption in the procurement process select Authentix because we set the bar when it comes to competing and winning with integrity.
All teams operate with strict adherence to the Foreign Corrupt Practices Act of the US (FCPA) and all anti-bribery and accounting provisions.​​
Documented processes are in place to vet all suppliers, customers and partners and we avoid doing business with any blacklisted or boycotted countries.​
Authentix is overseen by a Board of Directors supported by clearly articulated policies and best-in-class management systems. Government security and internal oversight committees exist to ensure the highest standards of global corporate compliance.
Annual training on our code of conduct, business ethics, anti-bribery and anti-corruption policies are mandatory for global management and all sales team directors.  This includes a 24/7 anonymous reporting hotline for any noted deviations from these policies.​
Only the highest caliber of employees are hired according to industry best practices including a rigorous interview process, exhaustive background and credit check and individual training requirements.
Authentix conforms all business practices to the requirements of international corporate standards including ISO 9001, ISO 14001, ISO 17025, ISO 17034, ISO 45001, ISO 27001. In addition, our company Security Print Solutions confirms to ISO 9001, ISO 27001, ISO 14001, and ISO 45001 standards.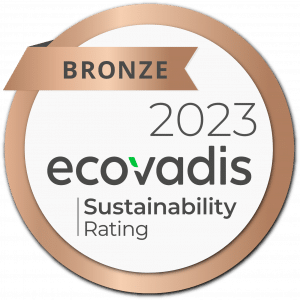 Certifications
EcoVadis medals recognize companies that have completed the EcoVadis assessment process and demonstrate a strong management system, successfully addressing and meeting sustainability, licensing and eligibility criteria.