The article below is the result of an interview conducted by writer Mila Milosavljević and Chad Crouch, Authentix Vice President of Sales for Serbian publication Pečat. This content has been edited and translated to English for use on authentix.com. You can find the original copy on the publication's website http://www.pecat.co.rs/2019/11/ced-krauc-tajna-nevidljive-akcizne-markice/.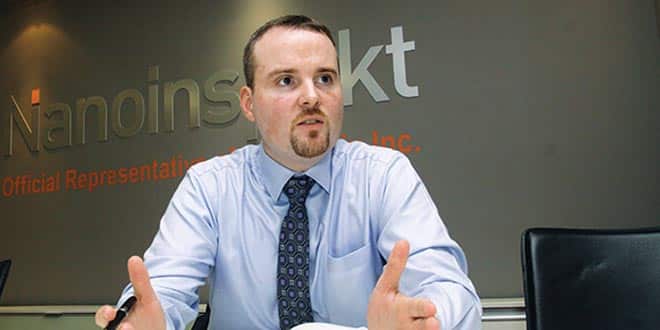 Chad Crouch is Vice President of Sales at Authentix, responsible for the global sale of oil and gas market protection programs as well as brand protection. During his five-year tenure, he has overseen project management, program establishment and contributed to the efficient program delivery to many Authentix clients. In his current position, he is focused on developing and securing new clients for the company's programs.
Authentix' partner in Serbia is Nanoinspekt, which according to Crouch is known as a very reliable partner and is Authentix' official representative and distributor in Serbia and the surrounding countries. As our interlocutor points out, these two companies are intensively working on expanding their business and cooperation in the future.
How does Authentix push the boundaries in the oil and gas domain?
Authentix' mission is to safeguard the integrity of global commerce, and we do this by delivering advanced authentication solutions. In our oil and gas business, we deliver world-class technology to create solutions for governments and oil and gas companies to counter the illegal trade in fuels, crude oil and liquid gas. The programs we provide for state governments aim to instill confidence in the national fuel market to combat illegal trade, increase excise taxes and improve fuel quality throughout the distribution chain.
Authentix is ​​unique because of our advanced level of innovation that allows us to connect the real world with the digital through our AXIS® management platform. Our users can collect, store and analyze data from multiple sources and then report on it.  Through our software, clients receive an annotation from the operations performed in the programs to enable proactive combating of fuel fraud. We use our twenty-five years of experience to provide our customers with a turnkey solution, while on the other hand we work closely with governments and partners to provide them with technology in a timely manner to effectively run the program. We use state-of-the-art field-testing technologies as well as lab-based authentication that provide measurable results. Our unique markers are added to the fuel in very small quantities and our technology allow users to accurately determine the level of blending or illegal substances in the fuel. We are the global leader in this market with over two trillion branded liters of fuel so far, as well as the most active programs, with 12 national governments.
"Authentix' mission is to safeguard the integrity of global commerce by delivering innovative authentication solutions. In our oil and gas business, we deliver world-class technology to create solutions for governments and oil and gas companies to counter the illegal trade in fuels, crude oil and liquid gas."
As far as oil companies are concerned, our fuel authentication program enables them to protect branded fuels through the distribution line by ensuring that end customers get the quality fuel they intended to buy. In many cases, oil companies have a diluted distribution chain where they license their brand and hand it over to franchised retail gas stations. The oil marketing companies use our technology to validate the integrity of their supply chain and to confirm that they are selling the proper additized fuel at the specified octane levels.
How did Authentix revolutionize this field of business, both scientifically and economically? How are the programs set up and how do they function, for example in the Serbian program?
I will mention two examples. The first has many similarities to the excise stamp program. Obviously, you can't paste an excise stamp on a liquid, but our excise markers do just that. With our technology and analytical equipment, we authenticate that our invisible "excise stamp" is in the fuel. For example, you may have two diesel products that are exactly the same quality and specification, but the customer may need to differentiate the products based on a different tax status. Our markers provide the ability to differentiate between these products and also detect, quantitively, if the products have been mixed. Another example would be a fingerprint. By using a marker, you give the fuel a fingerprint that allows the user to detect changes in the fuel such as "diluting" with illegal fuel or mixing other substances in the fuel.
Huge money can be made through illegal activities in the oil and gas industry such as fuel smuggling. Accordingly, we come across many advanced ways of conducting illegal activities that our technology combats. Some short examples: in some countries, fuel such as kerosene is subsidized for cooking. We find that wherever there is a difference in excise fuel prices, subsidized fuel appears where it should not be in the regular sales chain. The state loses on the difference between these specific taxes while entities engaged in illegal activities fill their pockets. You can also take the example of neighboring countries where fuel prices vary. Fuel smuggling occurs most often across borders where illegal activity makes a difference in prices. Our programs provide a great return on state taxes, but in addition, as has happened in Serbia, they make the market operate on fair terms for everyone. The state collects the revenue it has prescribed, and the oil companies get higher sales revenue because the distribution chain has integrity while making it impossible for distributors to work illegally.
What would you single out as the greatest achievement of Authentix?
One of the programs we are most proud of and that we always emphasize in case studies is the program in Serbia. The only way we evaluate our success is if we produce tangible results for our clients. We refer to the program in Serbia because we know that the user was very satisfied with the results generated by the fuel marking program, which is also the success of Authentix. In the first five years of this program, the Serbian government repaid about 720 million euros, which resulted in the extension of the contract for another five years. We are very proud of this achievement and the positive impact this program has in Serbia. Other programs around the world are also proving to be successful and have generated billions of dollars in profit for clients. All of this has resulted in long-term customer retention in more than 95 percent of cases.