By: Jeff Conroy, Chief Scientist, Authentix
Many companies are thinking more broadly about how to implement coordinated anti-counterfeiting, anti-diversion strategies across their brands and throughout different regions of the world. Just as tamper-evident seals on bottles of pills and liquid formulations became more common due to a tampering scare in the 1980s, attitudes toward anti-counterfeiting technologies are beginning to evolve.
Once viewing such measures narrowly as an "extra feature" that only "added cost" to the bottom line, brand owners are beginning to realize the importance of protecting the integrity of their brands and the most important part of the equation: protecting the safety of consumers. As serialization technologies continue to evolve, the tracking of individual units through the supply chain could enable very secure and traceable evidence of authentic products being supplied by manufacturers and distributors to end users.
Different Features, Different Purpose
Anti-counterfeiting features that can authenticate products are both overt and covert, and they can be applied in numerous ways: on labels, onto closure seals, on cartons where containers of products are stored, into plastic parts of individual packaging, and even onto metal and glass components of packaging.
The different types of features all serve a different purpose, from enabling end users to quickly identify a branded product as genuine, to covert markings that enable a manufacturer or inspector to identify the source of diversion or other illicit activity. When combined with the careful design and production quality controls used in authentic product manufacturing, these features raise the bar of complexity for counterfeiters and make the product a less attractive target.
With that said, it's worth considering the value of individual security features versus a multilayered approach.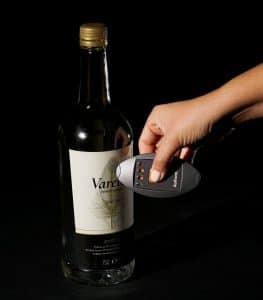 Overt security features: Visible security features serve a valuable purpose in the authentication stack. They offer a way for individuals to inspect packaging without any specialized tools, and the specialized color-shifting inks (similar to those used on currency) are often difficult to reproduce using scanners or reprographic methods. There are other types of optically variable features as well, including holograms, micro-optics (like the blue stripe found on the current US $100 bill), and reflective features.
Visible security features are a starting point, but counterfeiters are extremely creative and clever. Even if a visible authentication feature is hard to recreate perfectly, a counterfeiter only needs to copy it closely enough to confuse a consumer who just gives a package a quick glance. Additional features create layers of security.
Covert security features: High security covert features can be embedded into labels, closure seals, or other features of product packaging. Although such markers are invisible to the naked eye, they can be detected using specialized handheld surface spectrophotometers. Field instruments use proprietary excitation and detection optics and detection algorithms for rapid, secure field authentication. Additional forensic layers of security are also embedded into the materials and can be confirmed through more extensive laboratory analysis. This additional layer of security proves very difficult for the counterfeiter, but easily verified by field inspectors.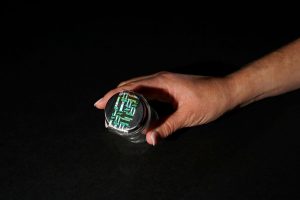 Serialization: In the serialization process, a company marks individual units at the point of manufacture (giving each a unique serial number) and implements stations to read those markings, capture the tracking data, and drop that information into a managed database that allows authorized personnel to monitor where products go after they leave the manufacturing facility. You're probably most familiar with this process as it applies to shipping a package overnight, when you can track it on the Internet until it reaches its destination.
An effective anti-counterfeiting solution contains multiple, layered components
As a brand owner, it's good to have options. However, the counterfeiter also has options. Fortunately, technology continues to evolve to help you protect your end users. Today's reality is that one level of security isn't enough.
Recently a number of technologies have become available that offer the benefit of not having to add any additional features to the packaging, but the imaging requirements on the production lines can be quite demanding and difficult to implement at speed. Once captured, the identification of the package can take place with conventional cameras, allowing widespread authentication and tracking by inspectors, retailers, or even consumers.
Any combination of covert or overt features or serialization enhance your anti-counterfeiting, anti-diversion strategies. Click here to learn more about brand protection. You can also contact Authentix at info@authentix.com.