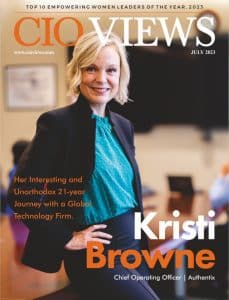 August 2, 2023 – Authentix Chief Operating Officer, Kristi Browne, was selected as one of the "Top 10 Empowering Women Leaders, 2023" by CIO Views Magazine, a news publication focused on business insights, technology, and innovations, along with informative reads from inspiring and successful business leaders.
Browne was featured as the July 2023 cover story and shares her background, experiences, and unorthodox 21-year journey with Authentix. Browne was appointed as COO for Authentix in 2021, having previously served as Senior Vice President of Global Services. Browne is responsible for logistics and production, management of the commercial brand protection business, and heads Authentix's digital transformation initiatives.
Kevin McKenna, Chief Executive Officer, stated "This recognition is well deserved. Kristi's detailed understanding of our business has put her in a unique leadership position because of the many years she has successfully led different areas of the organization. She understands the science, the customer base, and is one of our best problem solvers."
Read the full story here.