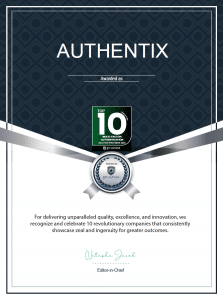 April 27, 2023 – Authentix, the authority in authentication and information services, has been named a Top 10 Multi-Factor Authentication Solutions Provider for 2023 by GRC Outlook Magazine. Kevin McKenna, CEO of Authentix, is featured in the article.
According to GRC Outlook Magazine, multifactor authentication (MFA) has become an essential tool for protecting sensitive information in today's digital age with organizations continuously looking for new ways to enhance security protocols. Authentix is a unique contributor in this category because its multi-layered and multifactor authentication solutions tie together the credentialing of physical items, user credentials, and item movement tracking. In this instance, by building a database of relational transaction events that see each subsequent transaction in relation to the characteristics of multiple preceding logged events, Authentix' machine learning algorithms can detect suspect events that need escalation and review by product owners for potential counterfeit or diverted products.
Authentix was also highlighted for its capabilities to bring the physical and digital world together, using both covert and overt security features to allow unique discoveries of product compromise issues only detectable by its clients using proprietary systems. These technologies working together can close the loop, bring visibility to supply chain blind spots, and provide rapid, multilayered authentication detection to connect the consumer, the product brand owner, and third-party suppliers. The technology can also enable product journey tracking and direct interaction between manufacturers and consumers for unique marketing experiences and detection of purchasing trends.
Read the full article from the April issue of GRC Outlook Magazine here.