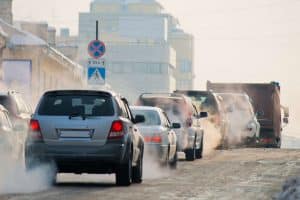 The Oil and Gas industry is facing increasing pressure to take urgent actions toward a low-carbon future. Some have responded already by setting bold Net Zero and other ambitious Sustainability targets by 2050. With the current geopolitical landscape, the industry continues to be challenged to innovate in navigating climate and environmental issues driven by constantly changing policy and regulations.
To emphasize the seriousness of the industry's need to address climate issues, the Energy Institute recently focused on the energy transition as the key theme at IP Week 2020, held in London this February. As a key conference speaker on behalf of Authentix, I had the opportunity to share unique insights on how physical and digital fuel authentication technologies can help reduce emissions, protect the environment, and enable a more sustainable future, while also removing manipulation throughout the supply chain.
Fuel Adulteration's Impact on the Environment
Fuel adulteration has proven to increase emissions of harmful pollutants from vehicles and worsen urban air pollution that lead to adverse impacts on human health. For example, kerosene, which when illegally added to a nation's fuel supply, increases levels of carbon monoxide (CO) by as much as 50%. CO is one of the most common adverse by-products caused by adulterants often added to gasoline and diesel supplies to dilute taxable fuels with non-taxed or extremely low-cost materials.
To assess the level of impact of fuel adulteration on emissions, a study was conducted by the Journal of Civil Engineering and Environmental Technology in India, a country where this continues to be a significant and ongoing problem. The study concluded that gasoline adulterated with five percent kerosene was found to have a CO value of 16.4%, while gasoline with a 55% adulteration factor increased the CO value to 51.6%, an alarming increase.
In many countries, fuel adulteration using harmful by-products, waste oils, etc. can make up to 30% of the total volume of gasoline or diesel sold. It's no secret that petroleum products present a lucrative opportunity for those who wish to deliberately manipulate fuel supplies for illicit monetary gain. Such activity is a huge environmental and financial problem for oil companies and governments alike. In fact, the annual worth of illicit fuel trade is estimated to be $133 billion and growing.
How Fuel Integrity Can be Compromised
Fuel manipulation can occur in multiple ways. If you consider the complex downstream supply chain, there are intentional or accidental vulnerabilities at many points that provide opportunities for fuel adulteration. These include:
Diversion
Dilution or substitution
Theft
Human error
Equipment malfunctions
When any of these factors occur, it can result in the wrong product used in the wrong application.  Without a traceability solution of some kind, it then becomes difficult to determine where and when the wrong product entered the supply chain.
Finding the Right Solution: Balancing Performance and Cost
To mitigate these challenges, oil companies and government agencies must be able to track and validate the quality and authenticity of their fuel at all points in the supply chain. This requires advanced technologies that can not only authenticate the fuel, but also identify and record meaningful data for product insights to be gained from terminal to retail station.
Marking fuel by inserting an extremely low dose (parts per billion) chemical marker into a petroleum product has become one of the most trusted solutions for enabling the detection of adulterants and to understand where this problem is happening. To provide the highest level of security and effectiveness, Authentix currently provides dozens of governments and branded fuel companies with proprietary and unique covert marker systems that vary in complexity and scope. Detection and measurement can occur in the field, in a laboratory, or both depending on the needs of the organization.
While fuel integrity programs are an effective way to combat adulteration, questions may remain about the quality and legitimacy of the fuel being refined or imported. To address this uncertainty, organizations and governments typically perform fuel quality assurance testing using ASTM standards via third-party laboratories. While ASTM testing is a longstanding and accepted method, it can be very expensive, and results are delayed as organizations struggle to find the balance between performance and cost.
For organizations looking for a more affordable and faster alternative to traditional lab-based ASTM testing, Authentix provides solutions for field use leveraging portable devices using sophisticated chemometric models, which can identify fuel composition and predict the overall quality and chemical properties. Applying this method, field enabled inspectors can simultaneously measure the density and the spectrum of fuel samples modeled to ASTM properties without the expensive and slower lab-based methods. These portable measurement devices can be used for a wide variety of fuels, including gasoline, diesel, jet, and other specialized fuels. In addition, IOT sensors can be installed in downstream locations for monitoring fuel volumes, which aid inspectors to audit consumption, shortages, and assist in demand forecasting.
In many cases, quality, volumetric, and usage data can complement a fuel integrity program with variable-time monitoring and actionable intelligence – enabling testing and visibility at any and all points in the supply chain.
Using Data Intelligence to Bring it Together
The magic bullet is not just the chemical marker itself nor the fuel quality testing method if used independently. But imagine the ability to collect, correlate, and analyse multiple data points from different sources that feed into a single data platform, providing a unique and actionable dashboard view into all elements of the fuel supply chain. As digital transformation continues to permeate the oil and gas industry, Authentix is accelerating its digital technology to provide this platform. The Authentix Information System, or AXIS®, is a cloud-based, integrated set of software applications designed to provide comprehensive and insightful data for our customers to make remediation and enforcement decisions, thereby giving them the ability to rapidly take preventative or corrective action.​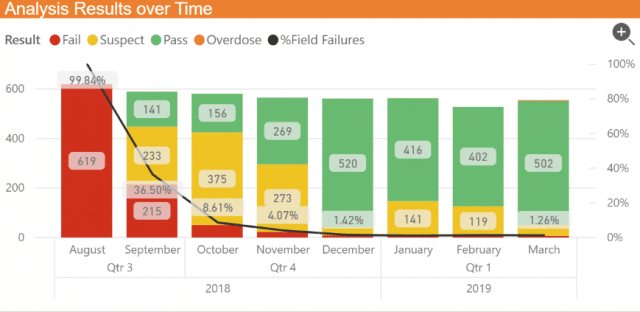 AXIS® report showing month-over-month view of failure results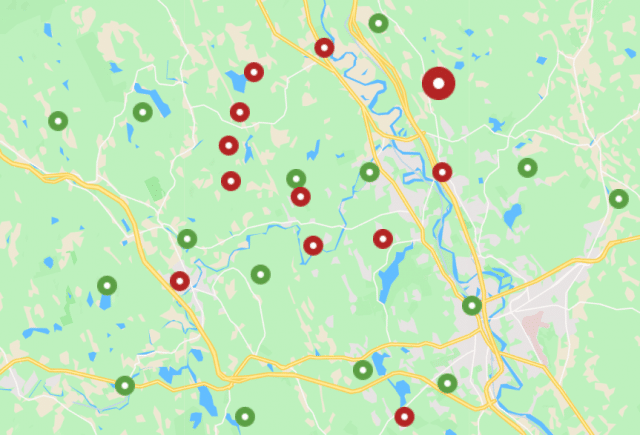 AXIS® report showing geographical view of location of stations tested and pass/fail rates
Looking Ahead
The move to a more sustainable future, decarbonization, and lowering adverse impacts of climate change will no doubt take an incredible allocation of time, technology, and resources. By having full visibility and control over the fuel supply chain, our customers are able to deter illicit activity and reduce unauthorized fuels in the market. Therefore, implementing a fuel integrity program has shown to directly improve emissions, reduce pollutants, and improve overall consumer health and safety. In our view, this becomes an important piece of the solution and should become a key component of any Net Zero or Sustainability Plan going forward.
About Authentix
As the authority in authentication solutions, Authentix thrives in supply chain complexity. We provide advanced authentication solutions for governments, central banks and commercial companies, ensuring local economies grow, banknote security remains intact, and commercial products have robust market opportunities. Our partnership approach and proven sector expertise inspires proactive innovation, helping customers mitigate risks to promote revenue growth and gain competitive advantage.
To learn more, email info@authentix.com.