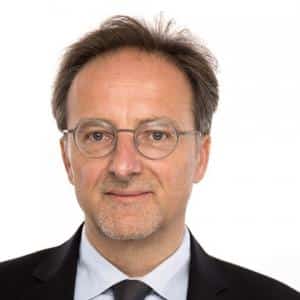 ADDISON, Texas, April 13, 2020 – Authentix®, the authority in authentication solutions, announced today that Global Key Account Manager Oil & Gas for Authentix, Yanos Michopoulos, has been appointed as Chairman of the Board of The National Gas Transmission System Operator, DEFSA S.A. Michopoulos will remain with Authentix in his current role during his term on the board of directors for DEFSA, a gas operating company responsible for the operation, management, exploitation, and development of the National Natural Gas System and its interconnections (pipelines and LNG terminals). The organization was recently privatized, and it is now owned by a consortium of foreign investors such as Snam (It), Enagas (Sp) and Fluxys (Bel), while the Greek government maintains a minority shareholding of 34 percent.
Mr. Michopoulos is a well-respected thought leader in the energy industry and currently leads Authentix's Global Commercial Oil & Gas business responsible for deploying  solutions to protect the quality and brand integrity of commercial fuel supplies worldwide. He has 30 years international business experience across the EMEA region in various energy sectors, including oil & gas as well as renewables and infrastructure.
Mr. Michopoulos was nominated to the DEFSA Board by Kostis Hatzidakis, Greece's Minister of Energy who stated, "I have known Mr. Michopoulos for 12 years and his extensive business experience, stakeholder management skills, and knowledge of Greece's energy sector made him the obvious choice to lead the board of DEFSA. He has already made a positive impact with his guidance, and we look forward to his continued leadership in this new role." Michopoulos stated, "It's an incredible opportunity to utilize my professional skills and diverse business experience to lead the board of directors as it moves DEFSA through this historic transition in the southeast Europe energy sector. As DEFSA enters this period of rapid transformation, I'm honored to have the confidence of Mr. Hatzidakis and support of the majority shareholders." Executive Vice President of Snam (It), the largest corporate shareholder of DEFSA, Mrs. Maria Rita Galli commented, "Mr. Michopoulos has an extensive knowledge of both the energy sector in which DESFA operates, as well as of the best practices in corporate governance. In his role as Chairman, he is contributing to the company's and the shareholders' efforts to lead the transformation from public to private and from local to an international business model."
Chief Executive Officer of Authentix, Kevin McKenna, stated, "As the authority in authentication solutions for the energy sector, Authentix makes a difference not only through our technology and service capabilities but also through the quality and experience of our people, and Yanos is a great example. We congratulate and look forward to supporting him in this additional role as chairman of the board of DEFSA while he continues in his current position at Authentix leading our global commercial oil and gas business."
About Authentix
As the authority in authentication solutions, Authentix thrives in supply chain complexity. Authentix provides advanced authentication solutions for governments, central banks and commercial companies, ensuring local economies grow, banknote security remains intact and commercial products have robust market opportunities. The Authentix partnership approach and proven sector expertise inspires proactive innovation, helping customers mitigate risks to promote revenue growth and gain competitive advantage. Headquartered in Addison, Texas USA, Authentix, Inc. has offices in North America, Europe, Middle East, and Africa serving clients worldwide. Authentix® is a registered trademark of Authentix, Inc. For more information, visit https://www.authentix.com.
About The National Gas Transmission System Operator, DEFSA S.A. 
The National Natural Gas System Operator (DESFA) S.A. is responsible for the operation, management, utilization and development of the National Natural Gas System and its interconnections, in a technically sound and economically efficient way, in order to best serve its users with safety, reliability and adequacy. Contributing decisively to the security of supply and the diversification of supply sources of the wider region, DESFA also facilitates the development of competition in the Greek energy market, while systematically striving for the reduction of greenhouse gas emissions. Possessing extensive experience and having a highly skilled staff, DESFA is a reliable partner in the framework of the ongoing international energy projects in Southeastern Europe.  https://www.desfa.gr/en/
##