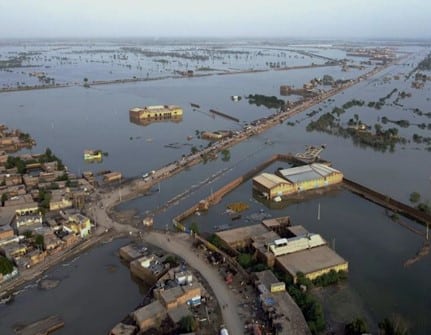 The floodwaters that have ripped through Pakistan since mid-June has left a third of the country underwater and more than 1,300 people killed. Pakistan's government has reported that approximately 33 million people have been affected by the extreme weather and over $10 billion in damages has been incurred thus far.
Officials have concluded that human-made climate change is linked to the 'monster monsoon' and have described it as a 'climate-induced humanitarian disaster of epic proportions.' Floodwaters have also swept away homes, crops, and roads and bridges, as weeks of historic rains fueled deadly flash floods.
Although rains have stopped and floodwaters in some areas are receding, many parts of the country are still underwater, and Pakistan remains in dire need of urgent aid. Guided by its core operating principles and social responsibilities, Authentix is committed to helping the community of Pakistan and has made a USD10,000 donation to Al- Khidmat Foundation to support flood recovery efforts.
Zafar Masood, the General Manager of Authentix-Pakistan stated "This is an unprecedented and devastating disaster for the people of Pakistan. We appreciate organizations like the Al-Khidmat Foundation who mobilize during times like these and provide humanitarian assistance and bring relief to the many lives affected by this tragedy."
The Al-Khidmat Foundation is a leading, non-profit, value-based organization, fully dedicated to humanitarian services for the people of Pakistan since 1990. From day one, Al Khidmat Foundation Pakistan disaster response teams have been on the ground across flood affected areas, rescuing lives and livelihood and providing relief assistance including cooked food, dry ration packs, tents, medical aid and other non- food essential items.