ADDISON, Texas, November 5, 2021— Authentix, Inc, a U.S.-based technology solutions provider specializing in digital supply chain security and authentication programs, was awarded today with the 2021 President's "E" Award for Exports by the U.S. Department of Commerce. The President's "E" Award is the highest recognition any U.S. entity can receive for making a significant contribution to the expansion of U.S. exports.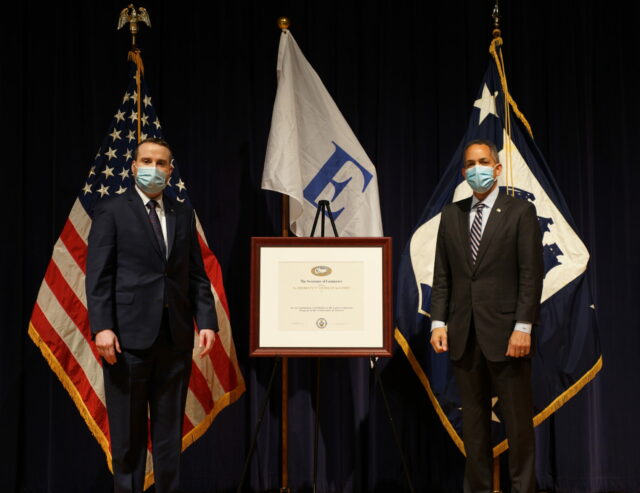 "Authentix's achievements have undoubtedly contributed to national export expansion efforts that support the U.S. economy and create American jobs," said U.S. Secretary of Commerce, Gina Raimondo in her congratulatory letter to the company announcing its selection. "Authentix has demonstrated a sustained commitment to export expansion and an innovative product development process to customize solutions for international clients. The company's increase in hiring tied to export growth was also particularly notable."
"The U.S. Commercial Service has supported Authentix's presence in global markets with local knowledge and experience that connects the right stakeholders to our mission to safeguard the integrity of global commerce." stated Kevin McKenna, CEO of Authentix. "With their help, we have been able to grow our footprint internationally and deliver advanced authentication solutions to help our customers thrive in a global economy. We are honored to receive the "E" Award,"
U.S. companies are nominated for the "E" Awards through the U.S. Commercial Service, part of the Department's International Trade Administration. With offices across the United States and in embassies and consulates around the world, the International Trade Administration lends its expertise at every stage of the exporting process by promoting and facilitating exports and investment into the United States; administering Anti-Dumping and Countervailing Duties orders; and removing, reducing, or preventing foreign trade barriers.
About the "E" Awards
In 1961, President Kennedy signed an executive order reviving the World War II "E" symbol of excellence to honor and provide recognition to America's exporters. Criteria for the award is based on four years of successive export growth in one or more international markets. For more information about the "E" Awards and the benefits of exporting, visit www.export.gov.
About Authentix
As the authority in authentication solutions, Authentix thrives in supply chain complexity. Authentix provides advanced authentication solutions for governments, central banks, and commercial products, ensuring local economies grow, banknote security remains intact, and commercial products have robust market opportunities. The Authentix partnership approach and proven sector expertise inspires proactive innovation, helping customers mitigate risks to promote revenue growth and gain competitive advantage. Headquartered in Addison, Texas USA, Authentix, Inc. has offices in the North America, Europe, Middle East, Africa, and Asia serving clients worldwide. For more information, visit https://www.authentix.com. Authentix® is a registered trademark of Authentix, Inc.
###