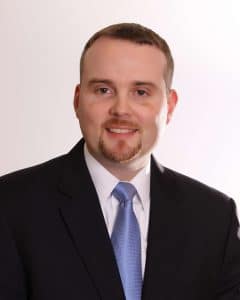 ADDISON, Texas, March 30, 2020 – Authentix®, the authority in authentication solutions, announced that its Vice President of Revenue Operations, Chad Crouch, has been appointed by the Department of Commerce to the North Texas District Export Council (NTDEC). The council members are appointed by the U.S. Secretary of Commerce and contribute leadership and international trade expertise to complement the U.S. Commercial Service's export promotion efforts. The primary objectives of the NTDEC are to educate the community about international trade and its benefits, including education to promote exports and international trade for companies in the United States. Regional District Export Councils also lobby state and federal legislatures to promote issues that can have a positive effect on international trade for their respective regions.
Individuals appointed to a regional District Export Council become part of a select corps of trade experts dedicated to providing international trade leadership and guidance to the local business community and assistance to the Department on export development issues. "I'm honored to be selected as part of the North Texas District Export Council, Crouch stated. We've been very fortunate to have such a great relationship with the United States Department of Commerce and its related agencies when expanding our business internationally. I look forward to assisting other companies in our region in expanding their business as well."
Authentix has transformed over the past 20 years to a global organization with programs spanning across five continents and offices serving dozens of governments, central banks, and Fortune 100 companies. Today, Authentix derives 80 percent of its revenue from sources outside the United States. In May 2019, Authentix received the Export Achievement Certificate (EAC) from the U.S. Commercial Service Department for its success in acquiring and serving customers in the global marketplace.
Chief Sales and Marketing Officer for Authentix, Kent Mansfield, stated, "Authentix works closely with the U.S. Commercial Service whenever we are expanding solutions and services into new countries, and this has proven invaluable to us in terms of support and guidance. Chad Crouch has been instrumental in furthering our relationship with the U.S. Commercial Service. I can't think of a better selection for providing guidance and input to the NTDEC."
About Authentix
As the authority in authentication solutions, Authentix thrives in supply chain complexity. Authentix provides advanced authentication solutions for governments, central banks and commercial companies, ensuring local economies grow, banknote security remains intact and commercial products have robust market opportunities. The Authentix partnership approach and proven sector expertise inspires proactive innovation, helping customers mitigate risks to promote revenue growth and gain competitive advantage.   Headquartered in Addison, Texas USA, Authentix, Inc. has offices in North America, Europe, Middle East, and Africa serving clients worldwide. Authentix® is a registered trademark of Authentix, Inc. For more information, visit https://www.authentix.com.
About U.S. Commercial Service
The U.S. Commercial Service (CS) is the trade promotion arm of the U.S. Department of Commerce's International Trade Administration. The CS is a part of the U.S. Foreign Service and its commercial officers are diplomats. The CS global network of trade professionals helps thousands of U.S. companies to export goods and services worth billions of dollars every year. CS trade specialists are located throughout the United States, as well as in U.S. embassies and consulates in over 75 countries around the world. The mission of CS is to advance and protect strategic U.S. commercial and economic interests around the world.
##