The article below is the result of an interview conducted by  Mila Milosavljević, a writer for Serbian publication Pečat, of Tim Driscoll, Authentix Senior Vice President and General Manager, Currency and Tax Stamp. This content has been edited and translated to English for use on authentix.com. You can find the original copy on the publication's website http://www.pecat.co.rs/2019/11/tim-driskol-borba-protiv-ilegalnog-trzista/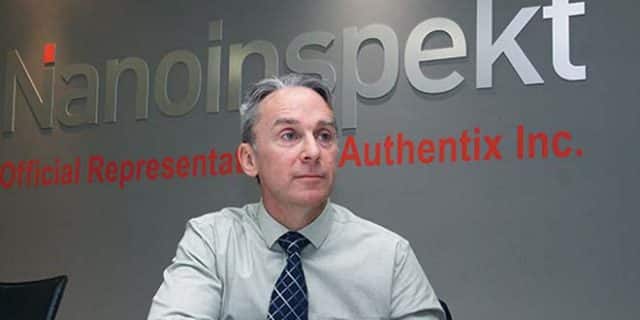 Tim Driscoll is the Senior Vice President and General Manager of Currency and Tax Stamp at Authentix, a US-based company committed to helping government officials and business leaders thrive in supply and distribution chain complexity with innovative authentication solutions. With offices in Europe, the Middle East and Africa in addition to the US, Authentix provides global support to central banks to protect their banknotes, helping tax authorities collect excise taxes and helping governments and national oil companies maintain fuel quality and fight fuel smugglers. Authentix also works with brand owners to protect the health of their customers and protect revenue that they're losing due to diversion and counterfeiting.
Authentix partners with organizations in several countries to best serve their customers. Authentix' partner in Serbia is Nanoinspekt, which is Authentix' official representative and distributor in Serbia and the surrounding countries. As our interlocutor points out, these two companies are intensively working on expanding their business and cooperation in the future.
Can you tell us more about your background?
I have been in the product authentication industry for almost 25 years and have spent the last 14 years at Authentix.  I have used my physics background and experience in the industry to serve as a trusted partner to government clients as we help them address their counterfeiting and tax recovery challenges.
Undoubtedly Authentix is ​​pushing the boundaries in this business? How do they do that?
The solutions we apply are very complex and involve a wide variety of innovative technologies. Authentix is ​​developing new security measures to enhance these programs. We are raising these programs to a higher level by implementing new and enhanced software systems to collect and analyze the data gathered from program operations. Part of our mission is to protect the integrity of the global marketplace through innovative authentication solutions. We are constantly improving the way we process operational data that we provide to clients. Those clients who successfully implement the program use data analytics as a basis for prioritizing and adopting appropriate measures to ensure product authenticity in the market.
How was Authentix founded?
The creation of Authentix started with two companies, one based in the US, and the other based in the United Kingdom. The foundation of the US company was based on technologies derived from Los Alamos National Laboratory, which later turned into fuel marking technology. The British company was based on a completely different technology derived from the University of York, which also found application in the fight against smuggling. In 2003, the two companies merged to form Authentix.
What would you define as the greatest achievement of Authentix so far?
In general, the programs we are most proud of are those that pay back taxes evaded by illegal acts to the state and its citizens. Also, one of the programs we are most proud of is the program in Serbia. This program illustrates what a strong partnership looks like when the right technology is implemented, when quality operational data is provided, and when authorities are willing to leverage that data to combat the illegal fuel market.
Tell us more about the programs in the field of excise stamps and protection of banknotes?
As far as the excise stamp program is concerned, we are very proud of the program we have introduced in Ghana. In this program, we have created a technology solution that allows the state to collect the full amount of excise duty on tobacco, alcohol and other beverages including beer, as well as water and sodas.
How have these programs been implemented before Authentix, and how are they done now, using the analogy of how fuel was once marked with solvent (yellow) and now molecular nanomarker?
All of these programs are essentially a game of cat and mouse. When we find a solution to one problem and apply it, those involved in the illegal fuel trade immediately try to circumvent security solutions. To address this problem, Authentix focuses on being flexible. We are flexible in the technology selected, how it's implemented and how it is supported. The banknote security industry has historically been reduced to a very small number of companies. Authentix, as one of these companies, has created innovative products for central banks that will solve their problems. The current trend of this industry is that central banks are trying to reduce dependency on one company. They are less likely to procure all protection measures from one or a small number of suppliers and want to be free to choose different offers from different suppliers. This is not the easiest way to keep the security level at a high level, but Authentix solutions are tailored to how central banks operate. For example, our features are seamlessly added into the banknotes and our sensors are easily integrated into the existing equipment used by most central banks.
How do you evaluate cooperation with Nanoinspekt, your partner in Serbia?
The collaboration so far has been fantastic. We collaborate with many partners around the world, but one thing that is special about Nanoinspekt is that we do not perceive it as a collaboration, but feel as if we are part of the same company with the same purpose.