DEFEND AGAINST FUEL MANIPULATION
Fuel integrity is essential to an oil company's brand promise. As the downstream fuel supply chain becomes increasingly complex, companies must protect their revenue, brand reputation and customers from unpredictable threats.
Authentix can help you mitigate risks to maximize revenue and gain a competitive advantage with our end-to-end fuel authentication solution.
Advanced fuel markers and analyzers
Robust data analytics and reporting tools
Comprehensive services and support
Contact Authentix today to learn how to create a solid defense to protect your fuel's integrity – from terminal to pump.
Authentix, in partnership with Oil & Gas IQ, surveyed the oil and gas industry to assess the impact of fuel manipulation and areas for change.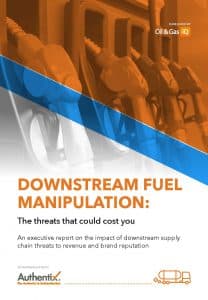 Download Fuel Quality Industry Report
* These fields are required.